HIMALAYAN "ROOFTOP OF THE WORLD" 
BIKE TOUR 
Mt. Everest Base Camp
(NEPAL & TIBET/CHINA – 
KATHMANDU –
LHASA – EBC –
RIDE IN / FLY
OUT
)
1
5
DAYS
The greatest two-wheeler expedition that traverses through the road In Everest's shadow between Tibet and Nepal "Rooftop of the World" – Tibet Motorcycling Tour
This tour takes you on an adventure journey passing temples and monasteries, culturally rich villages, colorful markets, Himalayan views and the life of Tibetan people. This is an opportunity to ride the Himalayan range and explore cities renowned for the mystical charm they exude in the ancient city of Kathmandu to the 'Roof of the world', Tibet. Fulfill your adventurous dream to ride on the celebrated route of the Tibetan plateaus along the Friendship highway in Tibet.
15 Days – Trip of Your Lifetime.
The journey will be a high-altitude adventure, including several mountains at over 5000m above sea level. We explore the vast landscape anchoring these two countries, as we ride through one of the most remote roads in the world with the mighty Himalayas by our side. We'll spend time travelling in the shadow of the Himalayas, with a once in a lifetime opportunity to ride up to the base camp of Everest, and marvel at the sight of Mount Everest, the world's tallest mountain, standing at 8848m above sea level. Tibet is a land rich in history, and many of the ancient temples, monasteries and palaces will be on our path through this beautiful country. If you are looking for history, adventure, challenge and excitement on two wheels, then this extended tour through Tibet is for you!
Gear up for an epic journey to celebrate two ancient cultures and spectacular Himalayan landscapes unlike anywhere in the World exclusively with Great Escape Motorbike Tours.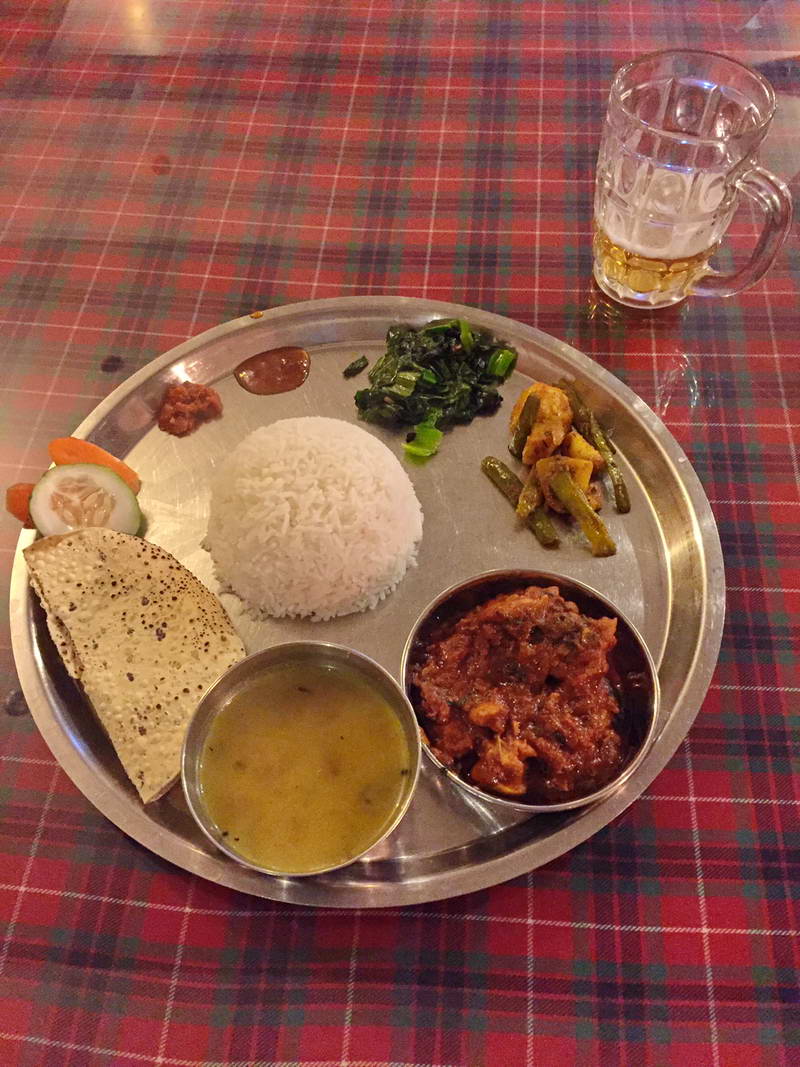 Highlights:
Ride the highest plateau in the world with mountain views most days. Ride to base camp, Mount Everest. Cruise into Kathmandu, Lhasa, Himalaya, Shigatse , Gyantse, Kumbum, Yamdrok‐Tso Lake, Tashilunpo. Cultural experiences, visits to monasteries and temples.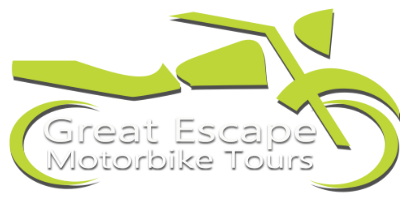 Day 01: Flight to ARRIVAL IN KATHMANDU, NEPAL
Arrival in Kathmandu at International Airport (before 11 am), meet our representative and transfer to hotel. You should fill in the Chinese visa form and we will collect your passport and one color photo (48 mm x 35 mm size) to apply for a visa via the Chinese Embassy. Free time on your own for buying or hiring anything you feel necessary things (bike gear/clothing) from the shop in Thamel or other markets nearby.
Note: Visa processing takes 2-3 working days (Mon – Fri) therefore you need to apply before 1 pm on the first day to obtain your visa by 10am on 2nd or 3rd day, so it is recommended that you check your flight arrival time to ensure it is before 11 am.
Stay overnight at the 3 star Tibet Hotel Double Deluxe
Day 02: Tibet/ Visa Preparation day, Sightseeing tour of Bhaktapur & Bike Introduction
After breakfast drive to the mediaeval city of Bhaktapur, which was once the capital of the entire Kathmandu Valley during the rule of Malla kings. The afternoon is free to explore this incredible town, and a local tour guide will be provided for anyone who wants an official guided tour. Group dinner on the hotel's rooftop restaurant, with great views and sounds of the city centre, working temples and pagodas. Old Nepal found here.

Stay overnight at the 3 star Tibet Hotel Double Deluxe
After breakfast, we will depart west out of the Kathmandu Valley, with challenging riding getting out of city traffic to Naubise, before turning off the main highway for some great smaller paved-road riding through picturesque Nepali villages and countryside. Afternoon arrival in the historic hilltop town of Nuakot. Late afternoon free to wander down to the old Durbar town square, which sadly suffered significant damage during the 2015 earthquakes, but is now under re-construction.
Stay overnight at the Standard hotel/guest house
Day 04: Tibet Border Cross – Kerung
With Tibet on Beijing time 2.15 hrs ahead, an early departure for the Tibet border at Kerung, and our Nepal exit immigration and customs formalities. Once cleared, we will cross into Tibet and meet our Tibetan crew. After China immigration and customs formalities, which can take a while, we will move up to Kerung town for the remainder of afternoon and overnight, while our staff processes our road permits with police. Welcome to Tibet!

Stay overnight at the Standard hotel/guest house
Amazing mountain riding straight off with views of the High Himalayas, back towards Nepal including Mount Shishapangma at 8012m. Our route this morning takes us around stunning Paiku Tso Lake situated at 4595m. Lunch in a local Tibet kitchen near Khozo, followed by direct views of Mount Everest via moving motorcycles with arrival into Tingri late afternoon. Basic accommodations in Tibetan style Guest House with absolutely STUNNING views of Cho Oyu and Mount Everest! Take it easy tonight. We are now on the Tibetan Plateau and riding high.

Stay overnight at the Standard hotel/guest house

Day 06: Tingri Acclimatization Day
Rest day today here in Tingri to acclimatize to our new 14,300 feet surroundings! Optional dirt road/off road three-hour afternoon motorcycle ride to a remote outlying monastery which is very interesting. Return to Tingri for overnight.

Stay overnight at the Standard hotel/guest house
Day 07: Rongbuk Monastery – Everest Base Camp
Our off-road adventure begins into Qomolangma Nature Preserve with views of Mount Everest along the way. Our shortcut, 70 kms/5 hours can be extremely rough, so please be careful. Packed lunch enroute. Afternoon arrival at Rongbuk Monastery, with Toyota Landcruiser transfer up to the official Base Camp checkpost, then return back to the monastery for a quick tour.
Overnight at the very basic Rongbuk Monastery Guest House

Day 08: Pang La Pass & Shegar
More early morning photographs of the mountain, then departure at for our rough 100km ride out over Pang La Pass (5120 M) with totally stunning views back towards Everest and the entire High Himalaya Range! Late afternoon arrival back on the main paved road, followed by a strict but quick passport check at the official army check post, then arrival into the small town of Shegar for overnight. Comfortable hotel accommodations here with attached baths and hot-running water.

Stay overnight at the Standard hotel/guest house
Morning ascent over wide open Gatseo La Pass, highest pass on the tour at 5220m, and down to the interesting junction town of Lhatse for lunch. Long afternoon ride over a few more passes including Tsho La, 4500m through small rural Tibetan agricultural villages in the valley bottoms, and on into Shigatse, Tibet's second largest city. Late afternoon and early evening free to relax at our fancy hotel or wander the town. Group dinner at Tashi's.

Stay overnight at the Standard hotel/guest house
Day 10: Shigatse – Gyantse
Morning tour of the impressive gold-topped Tashi Lhunpo Monastery. The largest working monastery currently in Tibet, Tashi Lhunpo is most famous as the site of enshrinement of the first Dalai Lama and also the seat of the controversial Panchan Lama. After lunch back in the saddle for our ride east to the outskirts of Gyantse for tremendous views of the Kumbum & Gyantse Dzong. Visit the excellent Gyantse Hotel. Late afternoon tour of the Kumbum, one of the most interesting structures in the entire region, and the Pelkor Monastery.

Stay overnight at the Standard hotel/guest house
Morning departure on the brand-new road to Yamdruk Tso Lake. Spectacular riding past an amazing (man-made) emerald lake, followed by stunning up-close views of the always snow-covered Mt. Nojin Kangstan and the Karo La Glacier. This is a cold ride, so bundle up. Arrival at Narkarse for a buffet lunch. Following the shoreline, we will make the steep sudden ascent and follow the road up over Khamba La Pass with excellent views back over the lake, and then endlessly down (spectacular descent) to the Brahmaputra River, where we will follow the Kyi Chu River into Lhasa. Our route will take us right past the stunning Potala Palace, old home of the now exiled 14th Dalai Lama. Comfortable accommodations for our stay here in Lhasa, and just minutes' walk to the old quarter and the Barkhor. Old Tibet found here. An extremely interesting place.

Stay overnight at the Standard hotel/guest house
Must-see morning tour of the Potala Palace. Wear your walking shoes. After-lunch tour of the Jokhang Temple, the most revered religious structure in Tibet. Late afternoon free for last-minute shopping. Group farewell dinner tonight at another favorite Lhasa eatery.

Stay overnight at the Standard hotel/guest house
Day 13: Lhasa – Dark Yerpa – Ganden(3800m)- Lhasa, 160km, approx 3hrs
A day's excursion outside of Lhasa city takes you to Ganden Monastery; it is located on Wangbur Mountain on the southern bank of Lhasa River which is about 50km northeast of Lhasa. On the way, we will also visit the less-known-by-tourists Dark Yerpa hermitage. Drak Yerpa is only a short drive to the east of Lhasa, Tibet, and consists of a monastery and a number of ancient meditation caves that used to house about 300 monks.
Stay overnight at the Standard hotel/guest house
Day 14: Transfer to Lhasa Airport – Tour Ends.

Early morning transfer to Gongkar Airport for flights back to Kathmandu or China, or perhaps the high-altitude train to Beijing.

One you reach in Kathmandu, you will hand over your bike and relax for the rest of the day. In the evening, there will be farewell dinner with cultural dance show.

Stay overnight at the 3 star Tibet Hotel Double Deluxe
Breakfast: According to your flight schedule, you will be transferred to the airport for your international departure.
Inclusions
Honda CRF250 or Crossfire bike hire with Fuel
Temporary driving license fee
In the traffic police motorcycle Check fee
Motorcycle traffic accident liability compulsory insurance temporary entry date
Temporary entry of motor vehicle number plate and driving permit fee
Motorcycle custom entry fee at China customs
Motorcycle deposit at china customs (paid by the company)
Mechanic, motorcycle, Spare parts of the bikes
Good Standard hotel/guest house on twin sharing accommodation with B.B basis as per itinerary names are listed above)
English speaking Tibetan Guide
Monastery entrance fee
Supporting Truck or Jeep for luggage, guide and mechanic to ride according to above
Emergency oxygen cylinder in the vehicle
Airport Pick up and Drop off (complimentary)
3 Night accommodation in Kathmandu
Return Bike Charges from Lhasa to Kathmandu
Not included
Nepal and China Visa fee
International flights
Lunch and Dinner during the whole trip
Personal biking clothing including Helmets
Emergency and Evacuate costs, travel / medical insurance / traffic accident /Personal insurance of the riders
Damage to bikes and accidents: In such an event our mechanic will assess the situation and a true cost will be realized to fix our machines on an actual cost basis. This has to be paid for direct.
Flight delays or cancellations due to adverse weather condition or technical reasons
Tips (Gratuities) for Guide, Mechanic, and driver (Tipping is expected)
* *Note: (applies only if you hire your bike from us) Minor Repairs like brake shoes, spark plugs, clutch plates, tubes, cable (01 set only) and engine oil have been included in the cost. However if more damage occurs due to rough handling, accidents or theft, then the repair costs must be paid by you.
Costs (all costs in $USD )
$5560 USD per person
30% deposit with booking
PLUS: Rider to organise and pay for:
Internal flight $450 USD approx Lasa – Katmandu (customer to book)
Visa for Australians $85 USD
This cost is for a 6 person ride
if only 4 riders are available then an additional $350 USD per person will be added to the original cost.
Extra: Single supplement: US$ 420
What Are You Waiting For. Call Now!